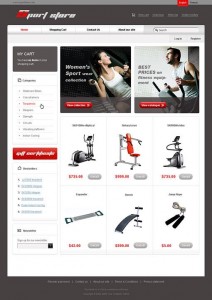 There is little argument that an e-commerce website is almost a necessity in today's digital economy. If you have a brick and mortar business but don't yet have a website you are probably losing market share as well as sales. You can develop and manage your website in-house but setting up and running an e-commerce website is a lot of work. It requires quite a bit of specialized skills and knowledge and a staff to code it and maintain it. Ideally an e-commerce site should be a sales tool, not an all encompassing project. After all, you have a business to run. So what other options exist to help you develop an e-commerce website?
Outsourcing is a good second option, if you can find a reliable company, a designer you can work with and someone who is willing to put in the time to understand how your business functions. Unfortunately, companies of that sort are scarce and very expensive. Budget over runs are common, deadlines are rarely met and the project never seems to end, it's just a never ending money pit.
A third option is a turn-key e-commerce website, professionally managed, hosted and customized to your specifications. A managed website is typically delivered by a company that has taken care of most if not all of the technical issues such as:
Hosting
PCI compliance for credit card processing
A reliable and secure shopping cart platform
Performance monitoring
Full time technical support
Content and data integration services
Automatic back-ups
Guaranteed up-time
Managed e-commerce website solutions require only a bit of time upfront when you provide the product data, pricing, company logo and any other specific content you want on the site. You can work closely with them or you can hand them your blueprint and sit back and let them work it out. Best of all, turn-key websites are based upon pre-configured, stable, shopping cart platforms, therefore the majority of the expensive work has already been done. You merely need to customize the site to your tastes, have them enter your products and content and they'll make sure the site run flawlessly from that point forward.
The professionals at FinestShops are ready to develop a managed e-commerce website solution guaranteed to save you thousands of dollars. Simply contact us and we'll do our best to make your e-commerce dream a reality.
To your success!
Anton Pachkine
FinestShops E-Commerce Management
Hosting | Customizations | Design | Marketing
www.finestshops.com | 1-800-675-0162
Follow me on Twitter and let's connect in LinkedIn or Contact us to create your beautiful online storefront today!